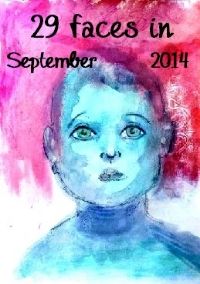 UPDATE!
ALL MY 29FACES ARE
(link: https://blogitse.com/29faces-september-2014/)
my #1 FACE
 watercolor, black marker pen
SusuPetal asked me to join this challenge. Good, because I
want to learn more, keep up draxing/painting which I started again this summer after too long break…
& & & & & & &
Dear Blogger blogger!
If you don't have already name/URL commenting option,
could you please change it.
Why?
Because if somebody clicks my name it takes her/him to my Blogger's profile page where I'm NOT
active anymore because I have self-hosted WordPress site.
It's trouble for visitors and for me to add correct site address in every comment I leave.
Thank you!